Top 8 Reasons to Work with STUFFOLOGY
1. Industry Experts – As one of the elite 10% certified as a Promotional Product Expert, Stuffology knows its stuff. With over 20 years of serving up, following up, and pumping up client revenue, Stuffology is here today…and will be tomorrow.
2. Not Afraid of Deadlines – At Stuffology, we don't act like the proverbial White Rabbit in Alice in Wonderland. Instead, we are on time, all of the time!
3. …And if Not, We Always Have a Plan B – In this industry, we not only plan for success, but plan for catastrophes. Our planning means we literally "save the day" by having back up plans and options.
4. We Keep Fab Friends and Clients – Our clients morph into friends and our friends become our clients who stay with us for years. In fact, some of our clients have been with us over 20 years! We earn their loyalty every single year by providing great stuff and great service.
5. Hot, Cool, and Green-Friendly Products – Of course the world is changing and we're doing our part to give you the newest, coolest, and earth-friendliest products available. And, yep, we'd rather source your stuff in the Good Ol' USA.
6. Safe Products are a Priority – Did you know that there are Federal and State Safety Laws that regulate the promotional product industry? Probably not, but we do and that's why Stuffology only works with vendors who meet all necessary standards and regulations. There will be no lead in your coffee cups!
7. Proactive Approach to Biz – We believe in coming to you with ideas, promotions, strategies, and stuff that works. Don't worry, we'll never send you a catalog and make you come up with ideas on your own. We create, price, and deliver it right to you!
8. Fun Makes the World Go Round – As our job is giving away fun stuff, we believe in having fun too. No stuffy shirts for us!
If you want to partner with expert stuffologists who will help make your promotional stuff work for you, give us a call at 502-365-4616.
Featured Item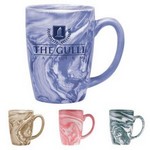 16 Oz. Palermo Collection Mug
This mug features an elegantly marbleized design & a comfortable, easy grip handle. Please note that due to the individual craftsmanship of these mugs, variances do occur in the color portions of the ...
$3.15 - $4.08